The year, I decided to take my daughter to the NSS! The National Stationery Show features all things PAPER!   Artists and buyers from around the world come to the Javits Center in NYC to view greeting cards, calendars, invitations, books, art supplies, art prints and gift wrap all under one roof. There are also printers and paper merchants showcasing their many talents and vast array of paper stocks.
2017 marks the first year that children under the age of 14 were allowed to purchase a ticket. All my children are creative, but one of my girls in particular seems to not let a day go by without coloring, painting, drawing or crafting. I wanted to take this opportunity to show her the many wonderfully gifted professionals doing exactly what she LOVES. This community shares a passion for creativity and a willingness to share their stories of trial and error, success and determination. www.nationalstationeryshow.com
Another well known tradition at the NSS, is the paper hunt. Varied exhibitors devote time and artwork in the form of beautifully crafted printed pieces to collect through your journey at the show. This years theme was a passport filled with varied artwork currency. It was one of the highlights of Kensington's day.
We saw some amazing booths. Here is just a small sampling of the over 800 participants.  #parrotpress #fishkiss #pleasedtomeet #papersource
Papersource put out an amazing showcase of paper crafting. I remember creating something similar during a summer semester at the Fashion Institute of Technology. This hit a home run for me because (of course it is covered in flowers) and it showcases its super trendy new Luxe Grey paper.Take a look at the amazing details below. I wonder how many hours this took to create?
We also made some amazing new friends! I want to say a big thank you to Lindsey at Warren Tales. Lindsey was kind enough to track us down during the show to return my daughters dusty sketchpad. She had been drawing all the new faces we had met so far, but got distracted by all the amazing work. Warren Tales had some very hip, funny and cool greeting cards on display. http://www.warrentales.com/about
We also chatted with Good JuJu Ink. They were super sweet and shared a bit about the industry and how they got started with both myself and Kensington. Did you know that Juliana was once a star of a television show? Yes, but her interest and passion for illustration lead her to where Good JuJu is today. Kensington loved this story as she too has to draw every day. This was one of the few kindred spirits we met. Thank you Juliana, Ryan and Marina for sharing your story and giving my daughter inspiration and the knowledge that you can make a career out of what feeds your soul. Ryan- you are mazing with children!!! https://www.goodjujuink.com/pages/about-us
Speaking of kindred spirits… Kensington is obsessed with piggies. Currently, this is the subject of much of her artwork. Low and behold, we met Adrienne Pratt of Porkchopstick Studios. What luck! Someone else who shares on obsession with piggies. Kensington was in her glory! This was turning into the best day ever. https://www.porkchopstickstudios.com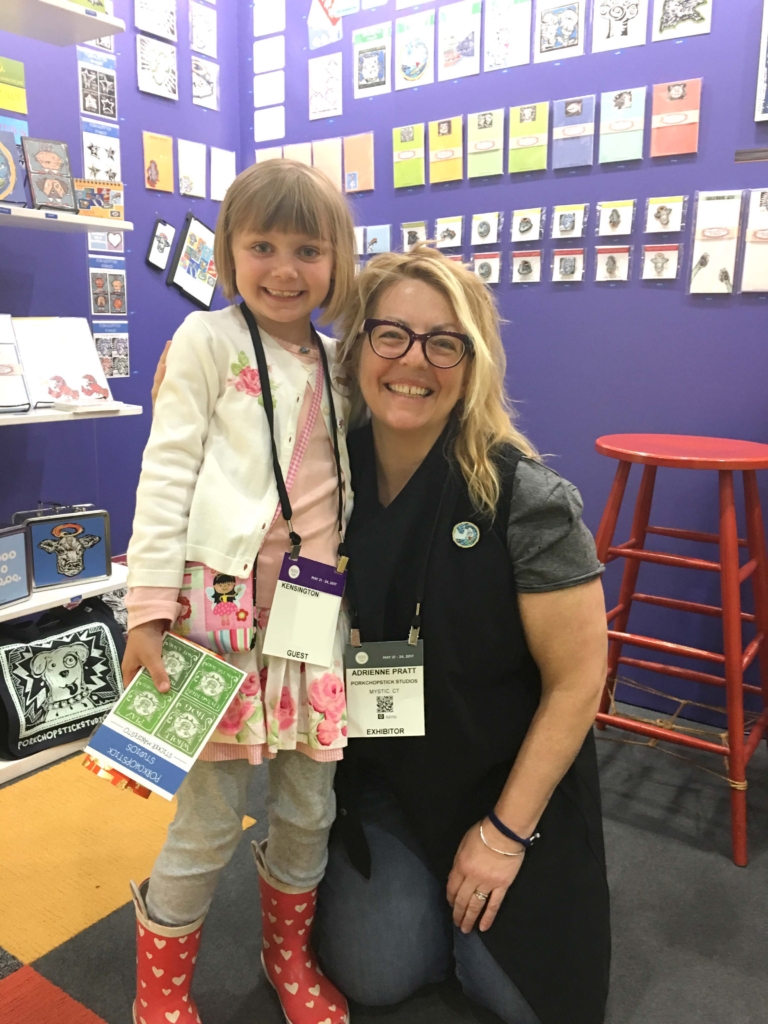 We also made our way over to Bonnie Marcus for some stylish fun! Bonnie was signing copies of her new 2018 calendar. Kensington got to share the spotlight with her here! We had so much fun and cannot thank everyone enough for taking the time to share their stories. It was such an inspiration to my little girl!
Even with all the rain, we ended on a very good note. Every year, after I walk the National Stationery Show, I head over to one of my favorite little places to eat. It is especially beautiful when the weather is nice and you can enjoy the open air seating. http://www.hkhellskitchen.co/brunch-menu
There burgers are pretty awesome as is the salmon burger.
My little artist back at work. I even got into the action with a quick 1 minute sketch of the two us walking in the rain. SEE YOU NEXT YEAR National Stationery Show NSS!!!