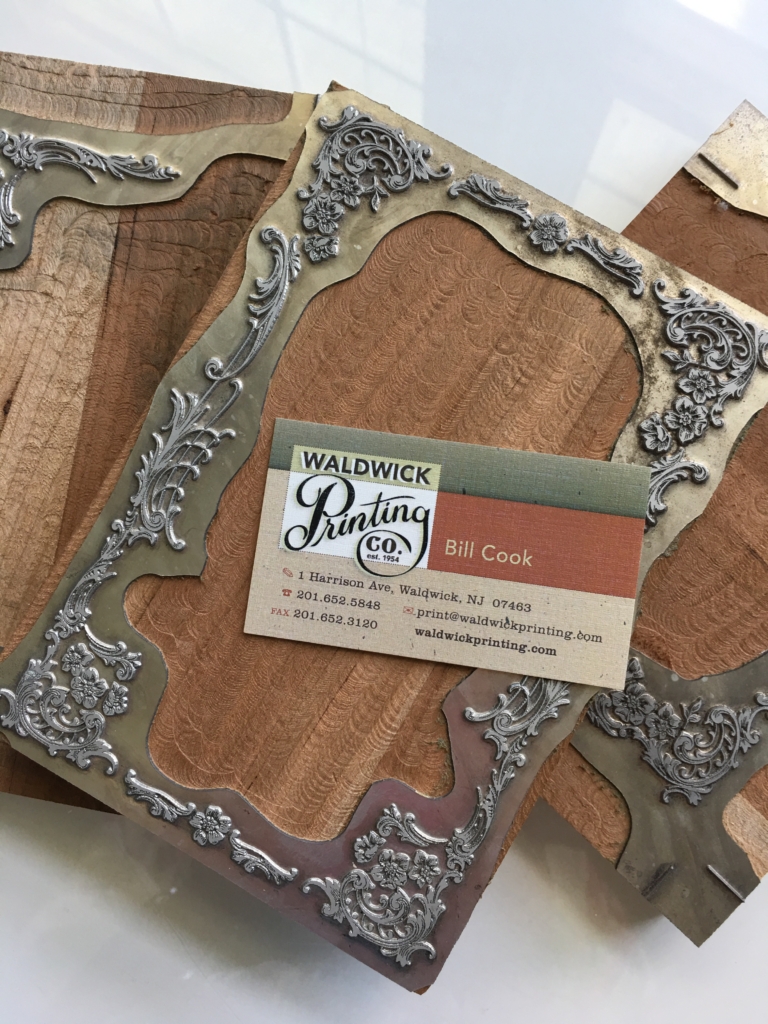 Last week, I had the pleasure of reuniting with an old friend — printer, Bill Cook of  Waldwick Printing. He and his father Bill Cook Sr. own this little gem of a print shop in the heart of Waldwick, New Jersey. It has been in business for over 50 years! This family owned business boasts of much experience and first hand knowledge of centuries old printing techniques as well embracing new technology. Included with the many older presses, it also houses a new digital press with capability to lay down white type.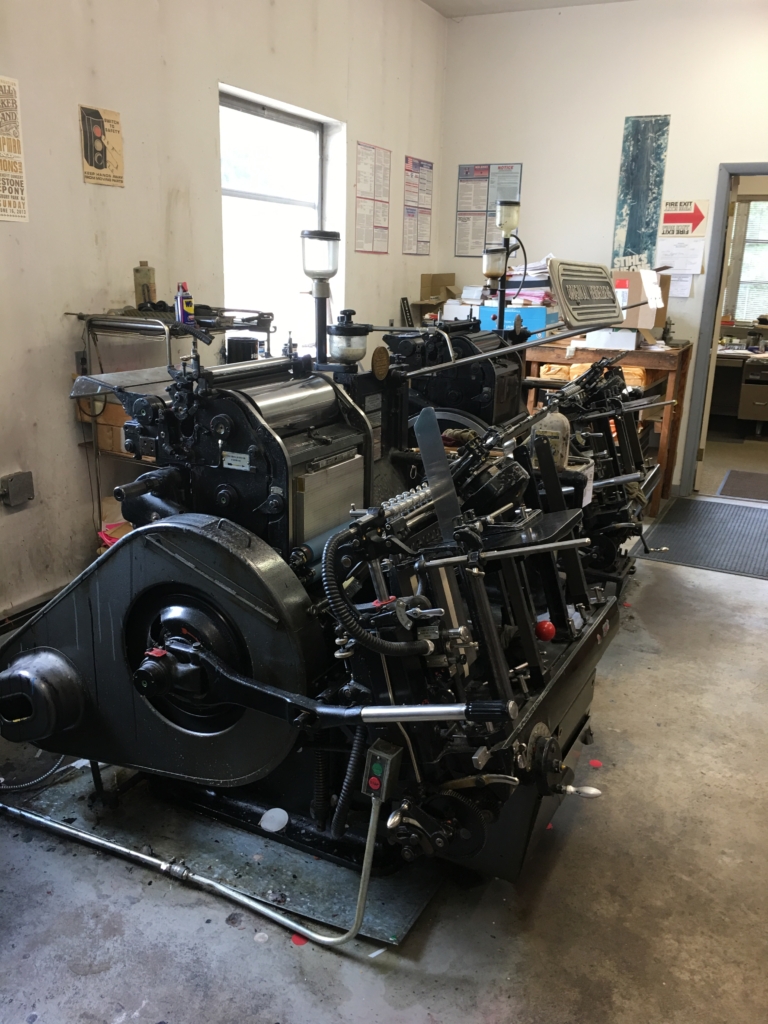 When I first started dreaming of my venture into letterpress, I was working as a professional in a corporate environment. I often went on press runs across the country.  In these travels to check color, accuracy and print quality – I met many wonderful pressman. Most often I was also given a tour of the premises and the different operational machines they had running at the moment. In one of my visits to Chicago, I was introduced to a Letterpress. I was fascinated with the tactile quality of the print and paper. I love all things vintage and was more intrigued that the presses producing this beautiful art were built in the mid-1950s. It seemed such a labor of love and craftmanship that you don't see quite as often in this world of slick, coated digital offerings.
First and foremost, I pride myself on being and artist and designer. I am blessed to work in a profession where I turn meaningful events into memorable keepsakes. The art and design are import in conveying style, beauty and emotion. However, equally as important is the vessel in which it is transcribed. A true Pressman is an artist and craftsman in his/her own right. It requires much skill, patience and experience.
When starting to form Little Dove Design, (formerly Chauhie) I researched the talents of Letterpress printers in the Tri-State metro area. I live and work in New Jersey and was delighted to find Waldwick Printing in my home state.  It is here that I first met Bill Cook Jr. He is and always has been a warm and friendly soul eager to share his first hand knoweledge of all things print. He is honestly one of the most genuine people I know and I am extremely proud and happy to know him. I had some small savings set aside and asked Waldwick Printing to print off some sample sets for me. I chose Bill not only for his expertise, but because he just came across as a "really good guy".  To this day, that very first invitation set he printed for me is still my most sought after piece.
Recently, Bill invited me to share a day at the shop. It was extremely informative as both Bill Jr. and Senior offered up tips and printing techniques. Bill Junior first discussed some of the background involving the Heidelberg Windmill Letterpress before showing me the operations. It is interesting because it certainly seemed an extension of his being. What to me seemed a bit daunting, Bill made seem like fluid interactions — explaining the process in a relaxed and thoughtful manner. He is a great mentor!
Thank you again Bill Cook and Waldwick Printing Co. It was a great time!